Believe it or not, there are ways to enjoy a spectacular vacation without breaking the bank. Perhaps a nice fall destination is calling your name. You don't have to spend a fortune to travel the world! Travel is affordable if you do it right. Check out these 10 incredibly affordable fall destinations.
1. Mexico City, Mexico
With temperatures reaching an average high of 73 degrees and low of 54, the weather is almost perfect for Mexico City's colorful fall festivals.
Flights: The cheapest round-trip fall flights to Mexico come in October, according to Skyscanner. Average fares are $282 from Los Angeles and $375 from New York.
Accommodations: GoSeek.com reports nightly rates for four-star hotels, like Hotel Royal Reforma and Galeria Plaza Reforma, averaging around $75.
TripAdvisor shows many hotel deals in Mexico City this fall, too. Through October 31, the top-rated Hotel Geneve Ciudad de Mexico is offering 50 perfect off with code TRIPADVISOR. Also check out Oasis rentals, which lists one- and two-bedroom apartments for under $200 per night.
 Things to Do in Mexico City This Fall: Mexico City's best known celebrations, from Independence Day in mid-September to the Day of the Dead on November 1, arrive with the change in seasons. Other festivals include Day of the Race (October 12), Revolution Day (November 20), and Saint Cecilia Festival (November 22).
(Photo: Oksana Tysovska / Shutterstock.com)
2. Minneapolis–St.Paul, Minnesota
If you're looking to visit the Twin Cities, fall is one of the best times.  You can experience crisp weather, foliage, entertainment, biking, breweries, and art exhibits for an awesome price.
Flights: Round-trip flights are at their least expensive in October ($221 on average from Los Angeles, $256 from New York), according to data supplied by Skyscanner.
Accommodations: GoSeek.com reports that the cost of a stay at a four-star property averages between $150 and $200 per night for fall. Three-and-half-star properties, like Millennium Hotel Minneapolis, go for around $125.
The Grand Hotel Minneapolis is offering a variety of packages, like the Play in St. Paul Package (which includes valet parking, two MetroTransit passes, and two drink vouchers on top of the usual Kimpton Perks such as a daily complimentary wine reception and free Wi-Fi). And for $169 per night check out Le Meridien Chambers Minneapolis, where your room key doubles as complimentary access to the city's best art museums as part of their "Unlock Art" program.
TripAdvisor's deal page lists many other deals for fall stays, too.
Things to Do in the Twin Cities This Fall:  Hazeltine National Golf Club will host the Ryder Cup in September attracting 50,000 fans from the U.S. and Europe. The Twin Cities Marathon takes place in October, and there will also be Oktoberfest and Halloween celebrations throughout the city, like ZooBoo at the Como Zoo and ValleySCARE at Valleyfair amusement park. Bike paths, art exhibits, breweries, and an up-and-coming culinary scene lure travelers during the season.
3. London, England
Thanks to Brexit, a more favorable exchange rate, and the emergence of budget transatlantic airlines, 2016 is the year to go across the pond. And the same low prices that we saw this summer are forecasted for fall travel, too. With decent weather, fewer crowds, and some foliage, it's a great time to go this year and take advantage of a great Affordable Fall Destination.
Flights: November looks to be the least expensive month to travel to England this fall. Skyscanner reports an average round-trip price of $620 from Los Angeles and $476 from New York.
Accommodations: Right now, TripAdvisor is showing tons of special offers and deals for London hotels, with many properties offering between 10 and 40 percent off nightly rates. Also check out London Perfect apartment rentals, which are offering 20 percent off stays of five nights or more thru September 30. GoSeek.com reports nightly rates under $100 for three-star hotels like Queensway Hotel and Westpoint Hotel.
Things to Do in London This Fall: There are many festivals in London this time of year, like the London Film Festival (October), London Fashion Week (September), and London Restaurant Festival (October), where more than 200 restaurants create special value menus across the city.
September also marks the 350th anniversary of the Great Fire of London, and exhibits, talks, tours, concerts, performances, and other events will take place throughout the city in the fall months, ending with the Lord Mayor's Show in November. 
(Photo: littleny / Shutterstock.com)
4. Miami, Florida
It's hurricane season, so you won't have guaranteed perfect weather in Miami—but you will have lower hotel prices, fun fall festivals, and warmer weather than most other U.S. cities have in fall. You will also have fewer crowds as peak season doesn't start until the holidays.
Flights: September is the cheapest month for round-trip flights to Miami, according to data provided by Skyscanner. The average cost of a flight from a New York area airport is $196. The average price from Los Angeles is $269.
Accommodations: September offers the best deals with most mid- to high-end properties starting under $200 per night, but searches on TripAdvisor for mid-October and mid-November dates yield discounted hotel prices, too. GoSeek.com recommends checking out The Mayfair and Casa Claridge's at Faena Miami Beach, both four-star hotels starting around $100 per night. Even the Marriott Stanton South Beach, located right on Ocean Drive has starting nightly rates for $208 for fall.
Things to Do in Miami This Fall: The Broward Carnival arrives over Columbus Day weekend to celebrate all things Caribbean. November is all about cars and speed, with the Miami International Auto Show and NASCAR Ford Championship Weekend. And, Miami's beaches and hotel pools are still open with temps in the mid-70s throughout the season.
Here are our next 5 Affordable Fall Destinations
5. Ecuador
Fall is Ecuador's off-season, offering fewer crowds and better deals. There are four main regions in Ecuador: Andes (Quito and the highlands), Pacific Coast, El Oriente (rainforests and lowlands), and the Galapagos Islands. You'll find decent weather conditions in all four regions from September through November, which is part of the country's dry season.
Quito and the Andes have consistent temperatures year round, averaging a high of around 66 degrees in Quito. The Pacific Coast finishes up its dry season during these months, with increasing temperatures and sunshine. October and November are the best months to go to the rainforest and lowlands, as the dry conditions are ideal for trekking. And, while the Galapagos Islands are warm and dry year round, the water warms a few degrees starting in October.
Flights: Flights between Los Angeles or New York to Quito average less than $450 round-trip in the fall months. Skyscanner reports that the average price for October flights from New York is $435.55. Fares even go as low as $374.25 on average from Los Angeles in November.   
Accommodations: GoSeek.com reports average four-star hotel prices of about $100 per night at Quito hotels like the NH Collection Quito Royal.
Things to Do in Ecuador This Fall: Activities vary greatly depending on where in the country you visit. Many religious and cultural festivals, like the Festival of Corn, All Saints Day, and the Black Mother, are held in the fall months. Right now, G Adventures is offering sale prices on 25 tours in Ecuador, with trips starting at just $594 for the Local Living Ecuador—Amazon Jungle tour. 
6. Maine
If you've ever been to Maine, you know that the fall scenery is beautiful. Temperatures can dip into the 40s at night, but usually stay in the 60s and even 70s during the day.
Flights: The average cost of a round-trip flight between New York and Portland is $241 in September, $212 in October, and just $169 in November, according to data provided by SkyScanner. You can also find flights from the West Coast for under $400 in the fall, according to CheapTickets.com.
Accommodations: The Westin Portland Harborview and the Portland Regency Hotel and Spa, both four-star properties, offer rooms for under $150 per night.
Beyond Portland, Cliff House Maine in Cape Neddick has fall rates starting at $229, which is a steal for this newly "reinvented" property. Stay in a treehouse at Timberstone Adventures in Stoneham for under $30 per person, or bring a pet for free at Admiral Peary Inn in Freyburg, where the "Bark and Breakfast" special starts at $139 per night.
Sunday River Resort, a ski mountain in Newry, is offering a fall special with rates starting at $145 per night at the Snow Cap Inn (only open for Fall Festival Weekend) and the Grand Resort Hotels for the mountain's Fall Festival Weekend (October 7 to 9). The Kennebunkport Resort Collection is also offering a fall special—get the third night free when you stay two nights—at four of its properties, with rates starting at $99 per night.
Things to Do in Maine This Fall: Activities are endless in Maine come fall as you can still explore the coastline's lighthouses or opt for scenic leaf-peeping drives inland. There's also Acadia National Park in Bar Harbor, and the bustling city of Portland with shops, exhibits, restaurants, and bars.
7. Bermuda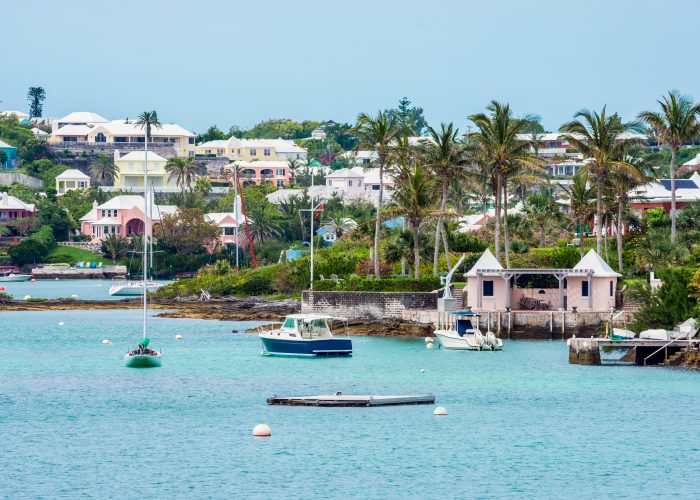 Fall is considered shoulder season in Bermuda, but the weather stays warm—the average temperature in October is 77 degrees—and crowds and prices drop come late September.
Flights: Skyscanner reports average round-trip flights of about $250 from New York in September and October. And you can fly from Los Angeles for under $500 in November, according to prices provided by CheapTickets.com. Another option: JetBlue's vacation packages to Bermuda, which offer combined discounts for flights and hotels booked together.
Accommodations: The Bermuda Tourism Authority is offering a Splash Sale with discounted rates at some of the island's best resorts and hotels. For example, the Summer Splash Sale at the Fairmont Southampton discounts rates by 45 percent on select dates through April 2017.
And, GoSeek.com reports  three and three-and-half-star hotel prices of around $150 per night at places like Grotto Bay Beach Resort and Coco Reef Bermuda.
Things to Do in Bermuda This Fall: You can do pretty much anything in the fall that you'd do in summer—such as hitting the pink sand beaches, going cliff jumping, biking along the historic Railway Trail, horseback riding, golfing, and enjoying local island flavors.
8. Montauk, New York
Not only is it expensive, but the real problem with a summer trip to the Hamptons these days are the selfie-taking, snapchatting crowds. Leave the millennial scene behind with a fall trip to Montauk. 
Flights: It's an easy drive, bus, ferry, or train ride for many East Coasters, so you'll already be saving if you're lucky enough to live close to Long Island. And, flights to New York airports from Los Angeles also yield savings this fall. CheapTickets.com reports round-trip flights in early November for just $276.
Accommodations: Stay at Montauk Yacht Club Resort & Marina with fall rates starting at $129 per night, compared to $450 during peak season. The resort stays fully open year-round, so you won't miss out on any activities or offerings. Also check out TripAdvisor deals for more slashed off-season prices.
Things to Do in Montauk This Fall: It's still warm enough to sail or rent a motorboat, just bring a sweater. Or, you can stay on land and bike around the town. There are also local wineries to visit, like Channing Daughters and Wolffer Estate, if you need to warm up once the weather starts to get chilly in October and November. Don't miss the Hamptons International Film Festival in October.
(Photo: Happy Poppy / Shutterstock.com)
9. Iceland
Often times, tourists fly to Iceland in the summer and leave by early September. And while temperatures drop and sunlight fades as fall arrives, the off-season is still a great time to visit Iceland. The Northern Lights are visible at this time of the year, and you can avoid freezing temperatures if you go in September or October.
Flights: Round-trip flights to Iceland from the East Coast can go as low as about $300 in the fall (as seen on Dohop), while West Coast flights cost about $500 on average in November, according to data provided by Skyscanner.
Accommodations: GoSeek.com reports three- and four-star hotel prices of around $150 per night for fall months. Check out Radisson Blu Saga Hotel, OK Hotel, and Apartment K in Reykjavik for these prices. Also check out top-rated hostels throughout the country on Hostelworld, with rates averaging around $30 per night.
Things to Do in Iceland This Fall: Fall is the best time to see the Northern Lights in both Reykjavik and the countryside. Glacial hiking, exploring ice caves, snowmobiling, and a taking a road trip around the Ring Round are all activities you can enjoy in fall.
There are also many festivals and cultural events this time of year. Rettir is the annual sheep herding that happens at farms in the countryside in September. This event draws tourists and locals alike as they help sort and number sheep returning to their owners after roaming the mountains in summer. And don't miss the Reykjavik Film Festival (September), IceCon (October), Nordic Music Days festival (September 29 to October 1), and Iceland Airwaves music festival (November). 
10. Washington D.C.
With temps in the upper 50s to 70s, D.C.'s shoulder season—September to November—is the perfect time to enjoy the nation's capital. And this fall in particular is an exciting time with the presidential election and some noteworthy museum openings taking center stage.
Flights: Skyscanner reports average round-trip prices of well below $200 from New York this fall, with the cheapest average in September at $172.22. From Los Angeles, flights hover around $320 round-trip thru the season. 
Accommodations: GoSeek.com reports prices under $175 per night for four-star hotels like The Fairfax at Embassy Row, Club Quarters, and the Melrose Georgetown. Also check out The Ritz-Carlton, Pentagon City (in Arlington, Virginia) with fall rates starting at $166 per night and the newly renovated Morrison House (in Alexandria, Virginia) with fall rates starting at $179 in September and October.
If you're really looking to save, consider the centrally located HighRoad Hostel DC from $29.95 per night. And, check out TripAdvisor's hotel deals for the fall months.
Things to Do in D.C. This Fall: As always, admission to all 19 Smithsonian museums and the National Zoo is free. September marks the opening of the last above ground Smithsonian Institution museum on the National Mall, the National Museum of African American History & Culture, with a three-day celebration and opening by President Obama on September 24. And, on September 30, the East Building of the National Gallery of Art will reopen with an outdoor sculpture terrace. Stephen King fans, don't miss the Library of Congress National Book Festival, where he will be speaking on the Main Stage to open the event—tickets are free.
Fall is also a great time to explore Alexandria, Virginia—it's just a few Metro stops away—as it celebrates fall festival season with the King Street Art Festival, Pedals and Pints from Port City Brewing Company, and the Ghost & Graveyard Special Halloween Tour.
Ashley Rossi, SmarterTravel.com | September 9, 2016
Photos: Smarter Travel