3 Best Luxury Cruise Ships You Need to Experience
With a myriad of luxury cruise ships from different cruise lines, how in the world is one to choose between them all? Almost all of them are worthy of experience, but going on a cruise may be a once-in-a-lifetime experience for some. We say go big or go home—especially if you only plan on doing it once. So, here are the 3 best luxury cruise ships to choose from that we're certain will be the adventure of your dreams.
1. Riviera | Ocean Cruises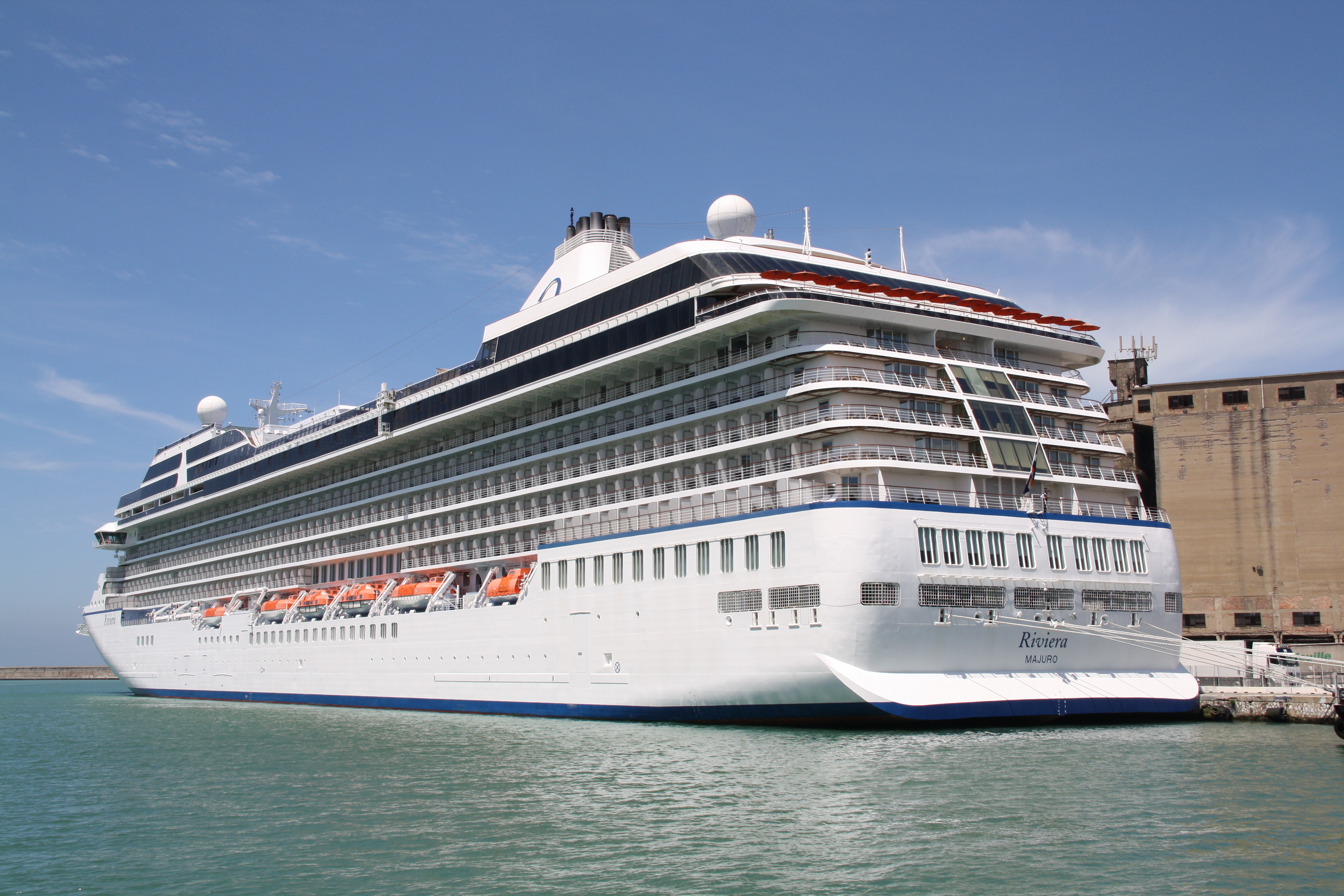 (Photo: WikiMedia)
This luxury cruise ship is the dedicated foodie's dream. Take your pick from one of the Riviera's 9 gourmet dining venues, 6 of which are available at no extra cost.
Indulge in a variety of cuisines, ranging from the French-focused menu of Jacques, to the Italian delights of Toscana, to the Asian flavors of Red Ginger. Willing to splurge even more? Indulge in La Reserve, a 7-course meal starring fantastic wine pairings, courtesy of Wine Spectator. Sign up for a cooking class (or multiple) at the Riviera's Bon Appétit Culinary Center where you can learn new cooking skills and techniques. Embark on a Culinary Discovery Tour in Portofino, Italy, or a Food & Wine Tour in Koper, Slovenia. Trust us, the Riviera will go above and beyond in satisfying all your epicurean cravings. But its food-centric features aren't the only aspects this cruise ship boasts.
Whether you book the 174-square-foot stateroom or the 2,000-square-foot Owner's Suite, you'll be met with cozy opulence in every way. The standard stateroom (which really isn't standard at all) boasts a tasteful earthy and nautical color scheme, an incredibly plush bed and couch, a flat-screen TV, and a private teak veranda. Oh—and refrigerated mini-bar that's continually stocked and rich Belgian chocolates, on the house. If you can afford to spend even bigger bucks, meet the massive Owner's Suite. It comes with all that the staterooms do and much, much more. From a 24-hour butler service, to access to the private Executive Lounge, to a complimentary iPad, to cashmere throw blankets, you'll be basking in luxury in every way.
As if things couldn't get much better, there's also a captivating library featuring over 2,000 books, a giant heated pool with 3 whirlpools to accompany it, a Canyon Ranch SpaClub to dive further into relaxation, and 3 boutiques for some fancy souvenirs.
2. Seven Seas Explorer | Regent Seven Seas Cruises

If an over-the-top luxury cruise ship is what you want, then Regent's Seven Seas Explorer has your name all over it. In fact, they've boldly declared themselves "the most luxurious ship ever built," but not without backing it up.
All rooms are lofty suites, decked out in rich furniture and flaunting more amenities than you could ever use. Take the most "modest" suite (if you can even call it that), the Veranda Suite. At 219 square feet, you'll find a king-sized Elite Slumber bed, a bathroom adorned with marble, and a private 88-square-foot balcony offering stunning ocean views. Not to mention the soft bathrobes and slipper set, welcome bottle of champagne and fresh fruit, 24-hour room service, and in-suite mini bar. You'll be so in love with this suite, you may not even be tempted to leave the room. Then there's the extravagant Regent Suite. With two large bedrooms, 3 walk-in closets, a baby grand piano, 2 private balconies, and an outdoor jacuzzi, it's almost irresistible. At over 3,000 square feet, you and 5 others will be soaking in the ultimate luxury in this suite.
But that's just the accommodation. Every single aspect of this luxury cruise ship oozes luxurious bliss. Indulge in the savory meals that await in one of the ship's 8 restaurants. Some favorites are Compass Rose, the largest of them all featuring a diverse menu, and Prime 7 featuring delicacies such as côte de boeuf and more. Plus, the décor of each restaurant is as indulgent as the food itself.
The Seven Seas Explorer also offers a multitude of different on-board activities to do and shore excursions that will keep you in a state of constant bliss and enjoyment. Head to the elegant Card Room for a night of games of your choice, get lost in the full-to-the-brim Library, harness your cooking skills in the Culinary Arts Kitchen, relax in the infinity-edge plunge pool, and more. Venture on a Gourmet Explorer Tour in Monte Carlo, Monaco or Provence, France, or go sightseeing in Lisbon, Portugal. The opportunities are endless, and the best part of it all? Every amenity, activity, and restaurant is included in the initial cruise price. Yep—that means no worrying about extra charges along the way.
3. Viking Star | Viking Cruises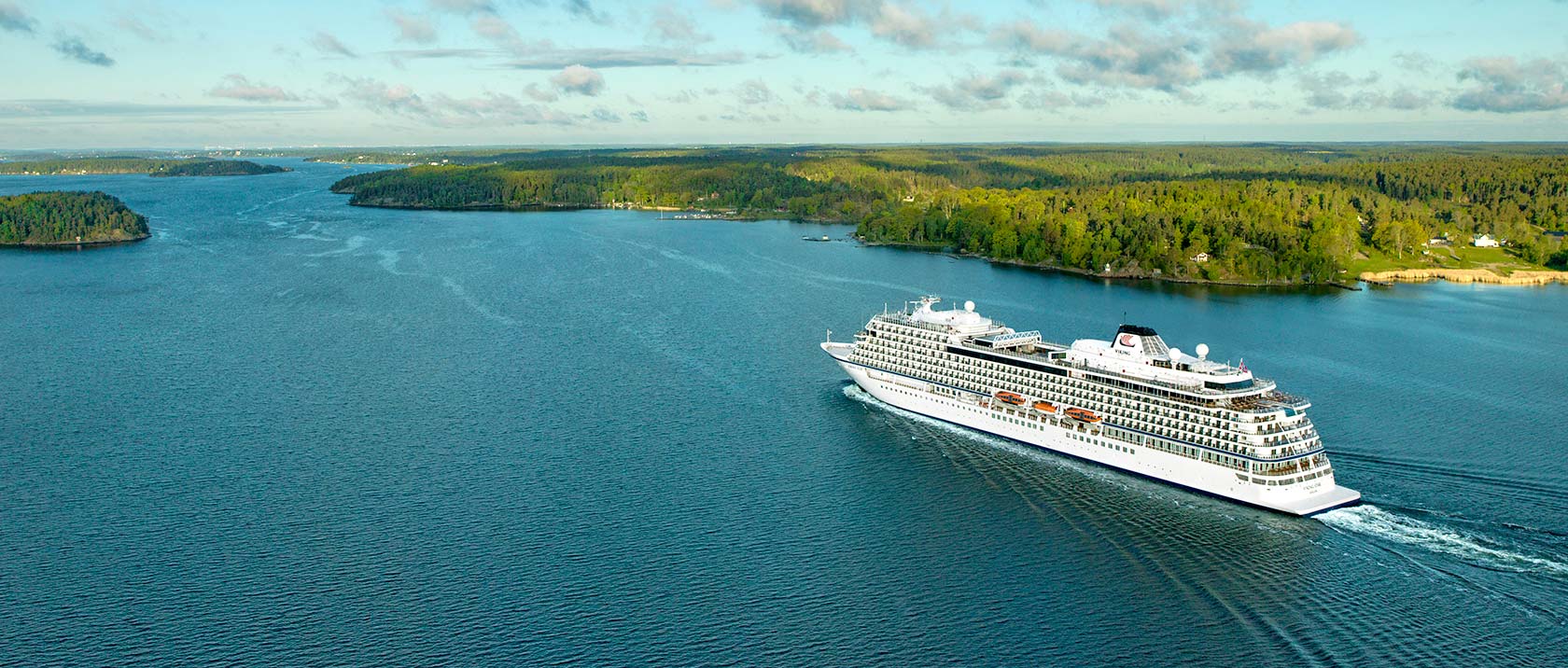 This luxury cruise ship may be the smallest of the 3, but it is by no means lesser. What makes the Viking Star set apart from the rest is its focus on cultural enlightenment of and interaction with each destination.
Gain in-depth insight about each place you'll explore in advance with one of Viking's Culture Curriculum many educational opportunities. These range from lectures given by experts in various fields to culinary classes offered by the Kitchen Table, where you can learn to cook dishes originating from your next destination.
Enjoy a complimentary shore excursion at every port on the route—plus some extras for a fee. Explore and discover well- and lesser-known spots and destinations with the narration of a deeply knowledgeable guide. Immerse yourself in the culture by enjoying the local flavor of each port. The coolest part? You'll get more time at each port-of-call than most cruise ships, staying out in beautiful places late into the night—or even staying overnight. Trust us, after an adventure aboard the Viking Star, you'll be more culturally knowledgeable than ever before. But don't get us wrong, the cruise ship itself is as wonderful as the world experiences it offers.
With a Viking-inspired flair, you'll be met with a tasteful yet humble luxury in every detail. The rooms are all veranda style, ranging from the smallest 270-square-foot Veranda to the nearly 1,500-square-foot Owner's Suite. Each room is clad in Scandinavian style, featuring soft, neutral tones and high-quality leather furniture, and they also come with verandas for enjoying the sea breeze and heated bathroom floors. You'll also be pampered with complimentary Wifi, and 24-hour room service, a 42-inch flat screen TV, and luxury robes and slippers.
Sure, Viking Star may not have a casino, but it prides itself in that—and for good reason. Its opulent but soothing design makes every space a perfect place to enjoy company with friends or relax with a good book. Head to the Library inside the Viking Living Room for hours of reading. Enjoy breathtaking panoramic views, afternoon tea, and finger sandwiches in the Wintergarden. Visit the giant Theater for a variety of movies, performances, and lectures. Enjoy some golfing or bachi ball on the outdoor Sports Deck. Pamper yourself in the Spa with in the sauna, snow grotto, or thalassotherapy pool. Oh—and don't forget the delicious all-inclusive dining options, with lunch and dinner offering complimentary wine and beer! The options are endless; just take your pick.
So next time you're planning a getaway on a cruise, choose from these 3 luxury cruise ships. Experiencing at least one as an absolute must. Which of these luxury cruise ships will you choose?
Arliss Veldhuizen, Trekbible | September 26, 2017

Trekbible is a travel website that covers everything from intel to inspiration. Their goal is to discover and experience all corners of the world and become better travelers, and then share those experiences and insights with their readers. Check out their website for expert traveling tips and guides, culture highlights, travel accommodations and deals, amazing attractions, and more.