Luggage Storage
Have you ever flown home from a work trip or vacation through an amazing city?
Did you go in?
Or, as many people do, did you sit in the airport, tied to your luggage, looking out the window, wondering when you'd have the chance to come back and visit?
Recently, during a four-hour layover in Amsterdam we were able to explore the bicycle-packed, river-following streets of Amsterdam, taking pictures of unique buildings, carrying only a camera and some personal items. Where were our bags? Back at the airport. Sans-bags is also how I explored Rome in 14 hours and saw Barcelona by moonlight; I have to add that there's nothing like sitting and gazing at Sagrada Familia at three in the morning. It is somewhat surreal.
So How Did I Do it?
It may not sound safe – but believe it or not, many airports have a 'left luggage' area where you can store your gear while you head into town to explore. These storage areas vary wildly, but with some best practices, you can protect your luggage and visit that bucket list city worry-free.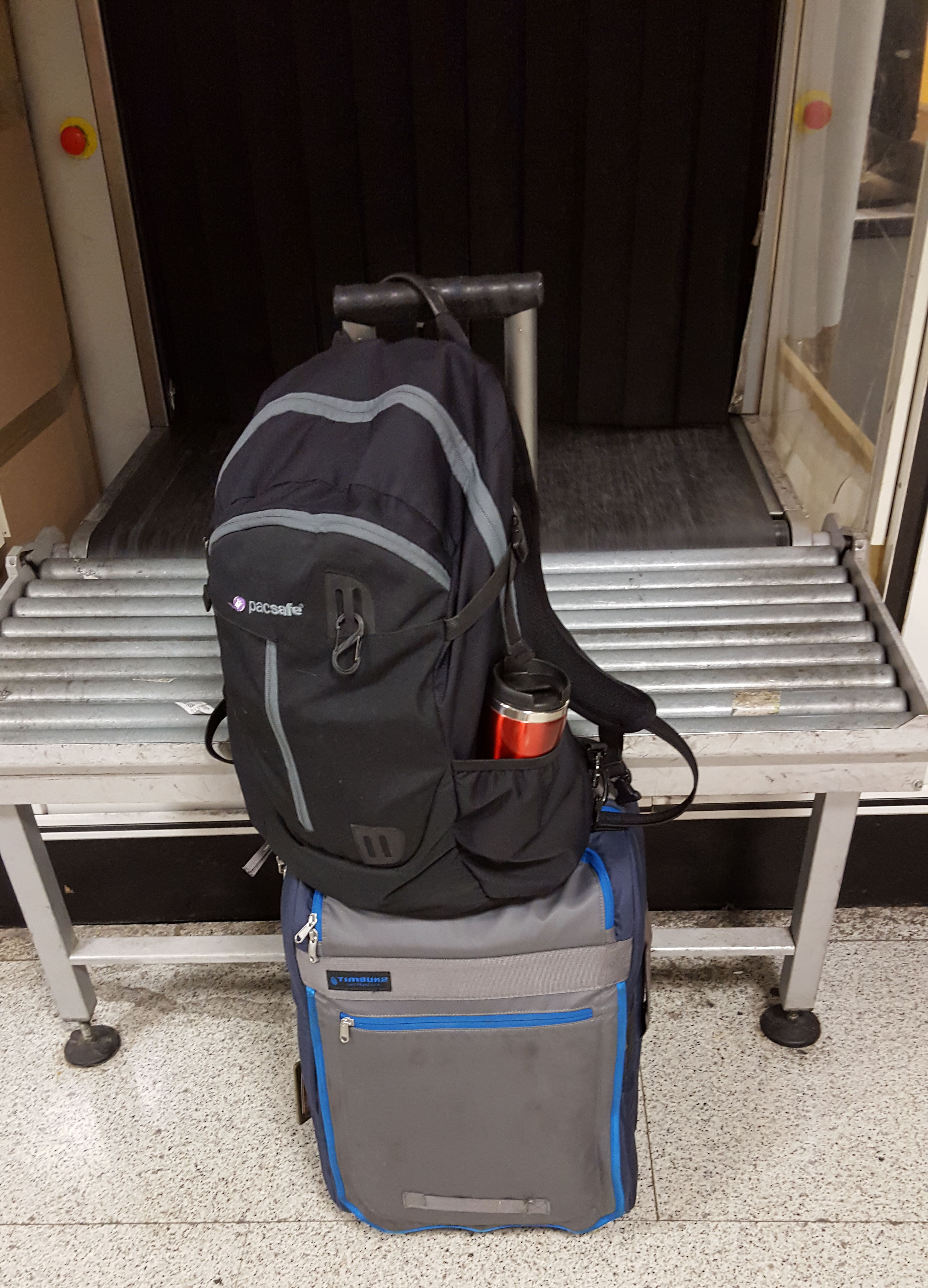 Why it is Safer to Store Gear
It's not only easier, storing your gear in a luggage locker or 'left luggage' area is a great way to lighten the load and make yourself less vulnerable as you get out and explore. It is unwieldy to drag around a roller bag, and the more 'stuff' you have, the more unwanted attention you will draw from potential thieves.
Things to Know
There will be a fee. It will range from $10-$30, sometimes depending on how long you are leaving your gear in their care and it is usually more for manned areas.
You may not always have control over the process. Left luggage can vary from a locker with a key or code (Amsterdam) to a service center manned by airport security where you have no access to your bags, nor the storage area (Rome), and most will require that the bags be scanned before allowed through.
It may not always be easy to find. Do an internet search using the airport name and keywords 'left luggage' to verify that there is one, and to gather particulars like location and fees. When you arrive, you may still have to ask around to find it, since they are not always well labeled.
Best Practices
Storing valuables: Before I leave items such as credit cards, passports, cameras, or other valuables in the bags, I consider a few factors: Will anyone have access to my bags in the left luggage area? If so, I carry a portable safe and will lock valuables in the safe and tuck it in my backpack. Are pickpockets an issue in town? If so, I wear clothing with hidden pockets or concealed pouches.
Keep documents with you. I do not recommend leaving passports in your left luggage, especially in countries where you are required to have it on you at all times.
Document it: Take pictures of your bags, receipts, signage, before you walk out. You never know, and people are not infallible; having a picture is much easier than trying to describe your bags to someone, especially in a foreign language.
The code is the key (literally): The code or receipt is often printed and handed to you. Have an alternate way to remember said code. Take a picture of it, write it on your hand, email it to a friend, etc.
Layovers do not have to be just a painful delay in getting home. As you plan your next trip, think about scheduling a connection through a city and wander the streets knowing that your gear is safe.
Have you left your bags in the airport to go into town?
JC Lightcap, Travel Safer | January 17, 2017
JC Lightcap is a travel safety consultant, author of The Travel Safety Handbook, and serial traveler. He provides business travelers, study abroad students and families with the tools to focus on their travel goals, raise their awareness overseas and come home safely. JC has been quoted in the Washington Post, featured in the Liberty Project and is a member of the International Ecotourism Society. He currently lives with his well-traveled wife and two dogs in Denver, Colorado where he snowboards, camps and hikes 14ers.