Multi-Generational Travel Experience
Traveling, enjoying life, and making memories with family and friends, and other assorted family members can be a truly exciting and memorable experience. Multi-generational travel is a goal for families who seek togetherness in both, near and faraway places. Learn more about the dos and don'ts of multi-generational travel.

Know Before You Go
1. Where is everyone sleeping?
Be sure to figure out sleeping arrangements ahead of time if your planning a multi-generational travel trip. Most vacation rentals offer multiple bedroom options, making it comfortable and convenient for the entire family. Try to assign the bedrooms and sleeper sofas ahead of time to avoid any potential squabbles upon arrival – there will be more important things to worry about, like spending time at the beach or pool!
2. Who is paying for what?
Figure out how you will be splitting up meals, activities, transportation and other travel expenses, and make sure all family members are in agreement. This will help to alleviate any questions once the trip starts.
3. Pack light!
There is no need for multiple curling irons or five bottles of shampoo. Communicate ahead of time about who brings what. It will also help you save some room in your suitcase!
4. Make sure everyone is happy!
Be sure to get one or two must-do ideas from everyone. This will help to determine what activities and attractions are priority for this trip. Keep in mind – some of your younger travelers may suggest activities that could be too rigorous for older family members. This is fine! Older family members may welcome the break.Plan ahead. Make dinner reservations way before you arrive. Depending on the popularity of the location and season of your vacation, dinner reservations for even a party of four could be tough. Given you have a larger size party, call ahead of time, to make your reservations and you'll be able to get the restaurants and times that work best for you entire crew!
While you are there…
1. Cook together, as a family!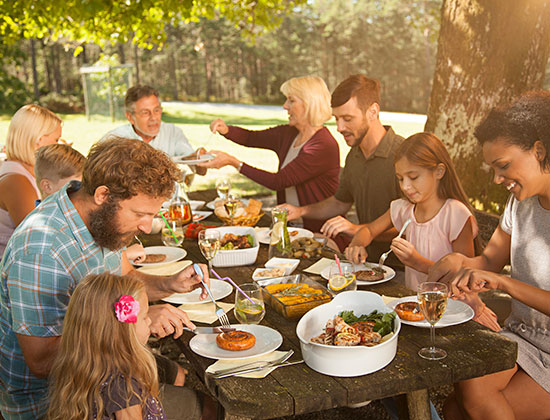 You'll likely have a full kitchen at your disposal to make all your favorite home-made meals. While going out for dinner is always fun, eating in a few nights while on your vacation is a nice way to spend time together, share favorite family recipes, while also saving a few bucks at the same time.
2. Capture the memories
Since your large family probably doesn't always get together like this, consider hiring a photographer to take photos of you and your family enjoying your vacation time. These will make for wonderful keepsakes and is a great way to document your memorable family vacation.
3. You don't have to be together all the time
Yes, it's a family vacation, but everyone needs some down time and a little time to themselves every now and then. Let the group break up into smaller groups to explore or grab a bite.
4. Finally, expect the unexpected
Like any vacation, you'll have to roll with the punches. With so many more people involved in your multi-generational travel, there may be several wrenches in your plan and you are likely to go off schedule. Just take a deep breath, relax, and remember you are on vacation. Enjoy it!
TripBeat | January 8, 2017
TripBeat wants to give you the chance to make more vacation memories!
Log in daily for your chance to win:
Grand Prize: the ultimate 7-Night stay at select Hard Rock All-Inclusive Collection
Resort – plus airfare†
Weekly prize: a Resort Vacation Certificate (valued at $599) that can be redeemed for
a 7-Night stay at a choice of resorts
Simply Visit: http://www.choosevacationsweepstakes.com/tripbeat to enter
Danielle Giordano, TripBeat© | December 19, 2017
Like what you read, be sure to check out more from TripBeat!
https://www.facebook.com/tripbeat