CLEAR: Faster Than TSA PreCheck
TSA PreCheck lines are getting longer and longer as more people enroll in the program. Well, the greatest thing to come along since TSA PreCheck is called CLEAR. It is a paid membership service that uses bio metric data to confirm your identity and expedite your wait time for airport security. Basically, you get front of the line access for TSA Pre or other lines instead of having to wait in line to show your driver's license and boarding pass to a TSA agent. You simply walk up to one of their kiosks to scan your fingerprints (or eyeball or face for facial recognition) and boarding pass.
The fun doesn't stop there, and this is where the magic of CLEAR really starts. A CLEAR guest agent then escorts you to the front of whichever security line you belong in, TSA PreCheck or other. Before you know it, you are putting down your carry on for screening and walking thru the metal detector.
The New York Times reported that 15 million people have TSA PreCheck compared to the 1 million enrolled in CLEAR. It doesn't replace TSA PreCheck or allow you to bypass any security screening, but it does give you that expedited VIP front-of-the-line access with a touch of nice customer service that makes the airport experience a little bit easier.
Angel Castellanos, AngelsTravelLounge.com | April 11, 2018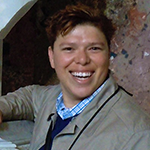 Angel Castellanos is a travel writer, expert, public speaker and founder of Angel's Travel Lounge – The Travel Ambassador. In this article, Angel gives you a quick guide to help all travelers save money and travel smart. For more insider trips, visit www.AngelsTravelLounge.com
Instagram: @angels_travels
Twitter: @angelstravels
Snapchat: @angelstravels
*Check out the rest of my tips here
*For more tips on travel tech and cool Apps, please visit my Travel Technology Page