6 Places You Can Only Go Wearing Mineral Sunscreen
Did you know that regular sunscreen is so harmful that you can't wear it in certain places? Regular sunscreen contains a chemical called Oxybenzone, which could be toxic to you, but is extremely toxic to coral reefs and marine animals. This means that in certain places, you can't bring those chemicals in the water.
So, what's the solution? Mineral sunscreen contains no Oxybenzone, and is biodegradable in water, meaning it won't be toxic to anything around you! In Dos Ojos cenotes, regular sunscreen is illegal, however, mineral sunscreen is allowed.
Mineral sunscreen, such as Sunology, is good for your skin, protects against UV rays, and is safe for the environment.
Check out these 6 breathtaking places on Earth that recommend mineral sunscreen over regular sunscreen. Some have even banned oxybenzone sunscreen entirely!
1. Puerto Princesa
Puerto Princesa's waters are extremely protected as this beautiful place is one of the New 7 Wonders of Nature. Puerto Princesa is located in an underground river on the island of Palawan in the Phillippines, and it is prohibited to go in the water inside the cave.
Signs posted in the area prohibit the use of Oxybenzone sunscreen. It's important to keep our waters beautiful!
2. Riviera Maya
Regular sunscreen is banned in Cenotes in the Riviera Maya. A cenote is a beautiful natural pool, often times inside a limestone cave that collapsed in some areas, exposing the hidden waters. Because these spectacular pools are so crystal clear, it's important not to fog them up with chemicals found in regular sunscreen. Put away your regular SPF when visiting this place, and break out the mineral sunscreen!
3. Hawaii
Hawaii is currently moving to ban regular sunscreen from all of its islands. The chemicals in regular SPF are just too toxic for this environment, but you have to protect your skin! That's why the use of mineral sunscreen will still be allowed in Hawaii. No sunburn for you!
4. Easter Island
Located in the middle of the ocean west of Ecuador, Easter Island is a gorgeous destination that must be protected from the chemicals associated with regular sunscreen. Keep these waters beautiful by NOT applying regular SPF before a swim!
5. French Polynedia
Although regular sunscreen is not banned from this destination, it isn't worn by locals and isn't typically found in stores. French Polynedia has many coral reefs, which can be extremely harmed by regular SPF. Mineral sunscreen is your best option here!
6. The Great Barrier Reef
Another destination largely populated with coral reefs, The Great Barrier Reef is not a place to wear regular SPF. Those toxic chemicals will harm reef and wildlife. Made from natural ingredients, mineral sunscreen is not toxic to the reefs or fish, and can even be good for your skin!
7. The Maldives
This very popular honeymoon destination recommends that you do not wear sunscreen with chemicals that can ruin its waters and coral reefs. The Maldives are actually made of coral reefs called atolls, so it's crucial to avoid exposing them to toxic chemicals.
Do your part in protecting our beautiful Earth by not wearing sunscreens that contain Oxybenzone! Switch to mineral sunscreen to keep the world's wonders safe.
Click here to order Sunology Mineral Sunscreen
Photos & Article by: Alyssa Ramos, MyLifesAMovie | May 4, 2017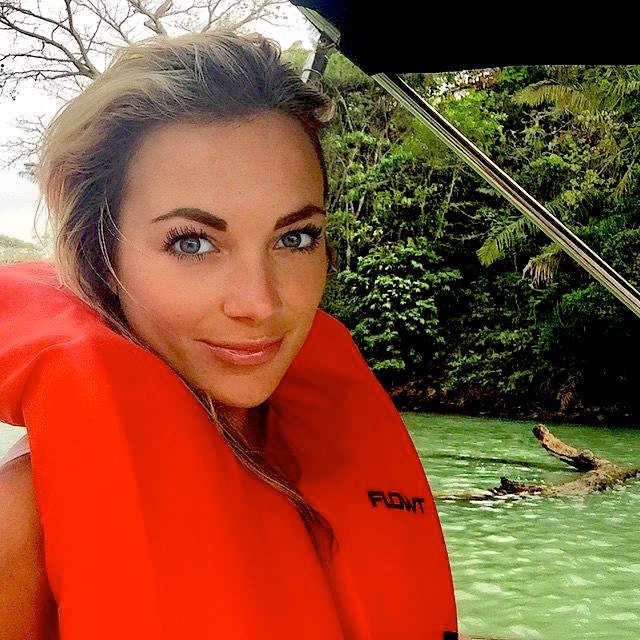 Alyssa is a self-made, full-time travel blogger who accidentally started specializing in solo female adventure travel and GoPro "proper selfie" photography two years ago when the travel bug hit and she had no one to travel with! Now, Alyssa has traveled to a total of 44 countries, more than half solo, and has successfully turned her passion for travel, writing, and sharing positive vibes into a successful career as a travel blogger, social media influencer, and professional waterfall chaser. She enjoys sharing tips that are actually useful on her blog, photographs that inspire others on her Instagram, and real time feeds of her travels on Snapchat, so that others can see the world and get inspired to go travel, at any time of the day!
Follow Alyssa on Instagram: @MyLifesATravelMovie | Snapchat: MyLifesAMovie.C