By
TripleLights.com
| March 24, 2015
Vending machines are becoming a large part of Japanese culture due to their convenience and speed, which compliments the typical on-the-go Japanese citizen. Foreigners who are not accustomed to this kind of culture could tend to find this trend disturbing, but believe it or not, the Japanese use vending machines for almost everything!
1. Sunny Side Up or Scrambled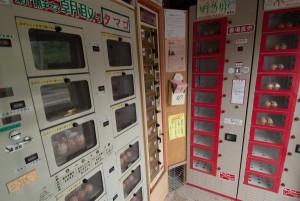 From rice meals to omelettes and side dishes, eggs are used in most Japanese foods. Therefore, it shouldn't be as surprising that you can find a vending machine that distributes fresh farm eggs all around Japan. Bags of fresh eggs are locked inside different compartments in this particular type of vending machine, and all you need to do is insert your Yen coins (or PASMO or Suica cards) to unlock the compartment and claim your ready to cook eggs. Read more!
2. Fruits and Veggies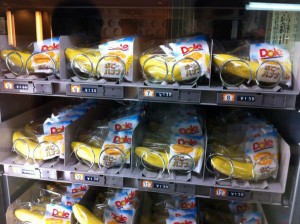 With time at a premium, many Japanese people would rather forgo the lines at the convenience store and will grab fresh chilled fruits and vegetables from vending machines instead! Japan's banana vending machines are great for getting rid of hassle and time consuming trips to the local store. You can often find these machines in both the residential and rural areas of Japan. Read more!
3. It's Raining Vending Machines!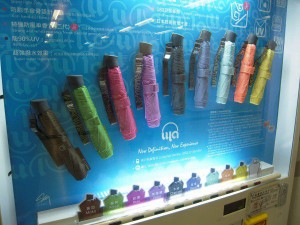 We've all been there – you realize your forgot your umbrella just as the skies open up and let down a flood of rain just when you think you can get away with forgetting one. Luckily for you, there's a vending machines for that. Read more!
4. The Latest News From A Machine
Despite the availability of news articles on the internet, Japanese business men are one of the main patrons of Japanese newspapers. If you were to take the train, more often that not you would find business men reading the paper they got from a stand or vending machine in their suits and ties.
5. Flowers 
Don't have time to go to the flower shop? There's a solution – the flower vending machine. Skip the hassle of going to the flower shop and get your loved one the flowers they deserve quickly and easily. Read more!
6. Business Cards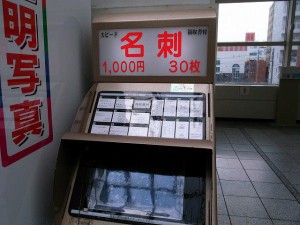 Even with the younger crowd, business cards are a popular trend in Japan. Lack the talent and/or time to design cards for yourself? Then try one of the design-it-yourself name card vending machines. Once you're content with your design, these machines quickly print your cards for your convenience. Read more!
7. Rice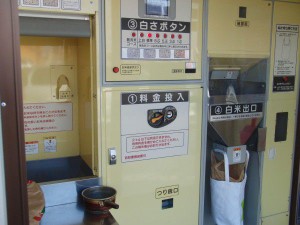 One of the most common vending machines in Japan dispenses a Japanese staple – rice. Insert your Yen coins in to the slot, unlock the compartment and grab your pre-filled rice bags. Read more!
8. Bras
Released by Wacoal, a famous manufacturer of women's lingerie, one of Japan's most recent vending machines will even let you pick out a bra. To make the process of buying one more convenient, size charts are also available for the easy choice of interested customers. Reach more!
9. Find Out Your Fortune
 Fortune papers, or Omikuji, are available in Japanese shrines and temples that contain random fortunes. Sometimes, you can buy omikuji as they are very popular in Japanese culture. You are most likely to find a fortune strip inside wooden boxes, but there are some places in Japan that offer them in vending machines!  Read more!
10. Liquor and Beer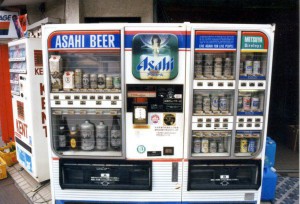 Like all cultures, beer is really popular to salaried Japanese men. If you're lucky enough to pass by a vending machine that dispenses alcoholic beverages, you can grab a can of beer quickly and easily to quench your thirst. Read more!
Let's face it, Japan has vending machines for anything, anywhere and everywhere. No longer can we deny the convenience of these machines in today's society, where time is of the essence and everything must be fast, easy and automated. However, there will come a time where shopping for items on your own will be a thing of the past and show never be forgotten.
For more about Japanese vending machines and the kinds of drinks you can buy from them, click here!
To learn more about Japan, plan your perfect trip and buy personal guided tours, visit TripleLights.com where you'll find the most authentic, reliable and extensive online travel guidebook available in English.