Day Trip: Galena, Illinois
History buffs will love the incredibly well-preserved Civil War era-heartland town Galena, Illinois. Galena, — on the Mississippi — was built up in the 1800s and became one of the richest ports in all of the United States.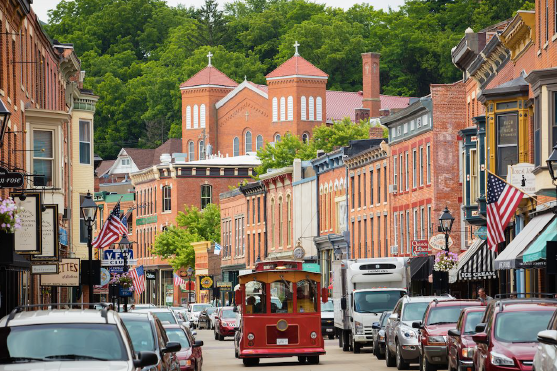 Merchants built a gorgeous brick commercial area and gracious mansions in the hills around it. Galena was home to a number of Civil War generals including Ulysses S. Grant, also the 18th president of the United States, whose home — open to the public — was gifted to him by grateful Galenans.
After the Gold Rush in the late 1800s when most shipping focused on gold rather than sulphide of lead for which Gelena drew its name, the town fell into a long neglectful decline. The upside of the neglect was that the rich architectural style is largely intact and now benefiting from modernization. The year-round population is approximately 3,500, and many gays born here flee the small town, but we met a number of local, out LGBT people and if you turn on dating apps you'll find locals eager to meet out of towners.
We stayed in the historic 55-unit Victorian style Desoto House Hotel, built in 1855 and the oldest continuously operating hotel in the state. It's right in the center of Main Street within easy walking distance to the river just behind or to numerous art stores, galleries and boutiques. We visited the gay-owned and managed Jail Hill Inn, which lived most of the previous century as a rather beautiful (from the outside) prison, which at one point served home-cooked meals by the warden's wife. As a B&B with delicious hot breakfasts now prepared by the super busy owner/manager, this gorgeous property vaulted to the top of TripAdvisor's Galena rankings.
Take a Trolley Tour of Galena to take it all in (and to avoid having to walk the steep hills around the main commercial area). Then meander up and down historic Main Street, which Fodors recently named "America's Best Main Street" and where you can find locally made artisinal products. If it weren't for the cars parked along the street, you could half expect to see Abraham Lincoln make a speech from the balcony of the Desoto (which he did in 1856). Enjoy wine tasting at the family-owned and run Galena Cellars Vineyard & Winery where for under $10 you can enjoy 5 different tasty locally made wines in a converted 1840s-era granary building.
There are a number of dining options which are excellent. We enjoyed two. Just be sure to note the hours of operations — it's not a late-night dining scene. Fried Green Tomatoes offers rustic Italian cuisine in a historic building and specializes in homemade pastas, in particular lasagna. The scallops were also fresh and tasty. And being that this is the Midwest, there is steak on offer, which received kudos from those in our party who indulged.
111 Main Restaurant has dedicated itself to supporting local farmers, artisans and food purveyors. This is a nice spot to enjoy enjoy the best regional dishes, with a particularly good selection of fresh cheeses.
ManAboutWorld | November 29, 2017

ManAboutWorld is the first gay travel magazine created specifically for iPads, iPhones and Android devices. It's a beautiful 10-issue/per year magazine with lush, high-resolution images; well-researched and written text; slideshows of images; beautiful videos; and live links to all listings and events.
You can download the ManAboutWorld App on the App Store or Google Play . Use this link and password "doubleupgrade" for a free all-access subscription to our magazine. (The link bypasses inApp payment for additional access to our paid issues.)