By
TripleLights.com
| March 16, 2015
For many travelers, one way to get a culturally rich experience is through the country's cuisine. Although visiting top area restaurants may provide a more gourmet experience, to immerse yourself into a new setting and culture, trying different food stalls on local side streets can create a memory that will last a lifetime.
In Japan, yatai, the Japanese term for street food, is a great way to snack and try different kinds of traditional food without ordering a full course meal. During Hanami, there are tons of stalls set up near the blossoms during both the day and nighttime.
Takoyaki
Takoyaki is a ball shaped Japanese snack that is created from a batter of tempura scraps, food, pickled ginger, octopus pieces ad green onion, cooked in a unique takoyaki pan. Prominently found in the city of Osaka, this snack is an all time favorite of many festivalgoers.
Yakitori
Recognized by the distinct aroma of meat cooking on charcoal, yakitori is the ultimate savory snacking food of Japan. This dish usually utilizes poultry at the main ingredient and is famous for including all parts of the chicken including the gizzard, skin, liver, thigh and breast.
Yakisoba
As popular in most, if not all, Asian countries, Japan offers a variation of fried noodles. The Japanese variation of this is called Yakisoba, which translates to fried soba. This comfort food is prepped by frying or wheat noodles with small pieces of pork, veggies and yakisoba sauce. Topped off with seaweed powder, pickled ginger, fish flakes and Japanese mayonnaise, this dish is prepped in front of you and served blazing hot.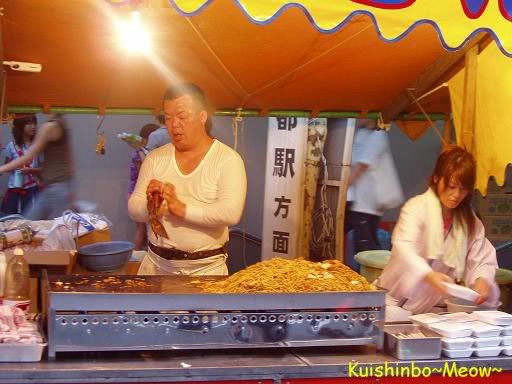 Banana Choco (Chocolate Covered Bananas)
This straightforward dish is popular across not only Japan, but also the world. Although not a traditional Japanese dish, this snack is incredibly satisfying and simple to make. Many festivalgoers consider this a treat as it not an every-day snack.
Sakura Mochi
This desert has a distinct taste due to its outer layer consisting of a sakura blossom leaf dipped in salt water which is then wrapped around the mocha and sweet red bean filling. Considered "seasonally appropriate," this treat can be easily found at most street stalls during the blossom season.
To learn more about Japan, plan your perfect trip and purchase personal guided tours, visit TripleLights.com, where you'll find the most authentic, reliable and extensive online travel guidebook available in English.