By John Golicz, Executive Editor, 1000TravelTips.com | July 13, 2015
Ever wonder what your favorite travel celebrities' top travel tips are? We picked out the top 10!
Samantha Brown On Traveling Abroad for the First Time
"My nu
mber one tip for people traveling abroad for the first time – don't over plan! There are so many things to do. There are monuments, museums, castles and cathedrals to see wherever you go. Stick to two things per day – maybe one museum and one castle or one cathedral, that's it!"
Rick Steves On Saving Money while Abroad

"Avoid touristy restaurants! Places filled with locals serve better food for less money. Look for a short, handwritten menu in the local language only. Always go with the specials!"
Pauline Frommer On Airline Tips and Advice

"I never check my bag – but for those that do, always write down your name, phone number and record locator number on a piece of paper and put it inside your bag on the top of all of your clothes."
Josh Gates On Adventure Travel Destinations

"For beginner adventure travelers, I'm a big fan of the Yucatan. Mexico is really close by, there are cheap flights to Cancun year-round and everyone thinks of Cancun as a party spot. But if you go in-land, you'll find yourself in the Mayan homeland. There's awesome opportunities for trekking, wildlife and exploring."
Phil Keoghan On Creating Authentic Experiences

"Authentic to me is finding ways to connect with the locals. Do what the locals do – go where locals eat, go where locals play, go where locals go to hang out and listen to music. The best way to connect with them is to go to a traditional pub and talk to them. You're interested in them and they're interested in you as well."
Johnny Jet On Cruise Tips

"Cruising is one of the best deals around, just stay away from the booze and the casino! You can find right now deals for $50 per person per night, which includes all meals, entertainment and accommodations. And always use a travel agent. They know what ship is right for you, they know all of the current promotional offers and they'll get you the best deal."
John Golicz On On-Demand Travel

"A big trend right now in the industry is on-demand travel. Gone are the days where you have to plan weeks in advance to plan your vacation. You can show up in a city one night, open HotelTonight on your smartphone and reserve a hotel at a low price. You can use OpenTable to make dinner reservations without calling ahead, you can use Uber to pick you up and drop you off wherever you want. Traveling this way is a great way to break free and just go!"
Angel Castellanos On Top New Travel Apps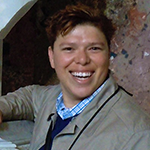 "I think EVERYONE should be using Google Translate, especially with the new features. You can use the app off-line, it uses word sense so you can actually just point your phone in front of someone speaking a foreign language and it will automatically translate for you. Pretty cool, right?!"

Chris McGinnis On How to Check Into A Hotel Like A Rockstar

"The most important thing you can do is get the person behind the desk involved in the decision on where your room is going to be. If you use the hotel's property management system, a computer will be picking your room instead of an actual person. So ask very specific questions when you're checking in to ensure that you're getting the room that you want."
Patricia Schultz On Using Your Passport Abroad

"Remember that some countries require that your passport be valid for 6 months after your day of entry, even if your ticket says you are only staying for a week, and might even deny you entry. Avoid the summer crunch and the cost of expediting passport renewal by applying now for your next international getaway."
John Golicz is CEO and founder of Unicomm, LLC. which produces America's largest and fastest growing series of travel trade shows – the Travel & Adventure Show Series. With nearly 30 years of travel experience, John has become an expert on how to travel better, safer, smarter and cheaper.