At one time you wouldn't dream of hitting the road without a map, guidebook and Swiss Army Knife. Today's travelers (gay or straight) need smarter tech. And they need power. ManAboutWorld canvassed its frequent-traveling correspondents and contributors who have road-tested a slew of travel tech and smartphone apps that will enhance your travel experience from before you set out to after you've reached your destination. Here are the top 10 travel tech tips from our favorite frequent lesbian & gay road warriors. 
Miles Mitchinson
Founder/owner Detours Travel
There's a trio of apps I don't leave home without: DuoLingo, a language-learning app that's fantastic for picking up the basics before heading to a new country. GoPro, to re-live that bungy jump, white-water rafting, ziplining or even SCUBA-diving, filmed hands-free from your forehead or a selfie stick. Solio Bolt, a solar-powered cell phone charger for those times when the sunshine is more accessible than a power outlet.
Billy Kolber
ManAboutWorld
I'm amazed at the Google translate app (for iPhone or Android). You can enter text of course but you can also point your camera at a foreign word or phrase, and it'll translate it in real time on your screen. It's very Star Trek futuristic. Never again accidentally order donkey instead of butter (me!) in Spain.
Robert Sharp
Founder/owner, OUT Adventures 
The Powerocks 12000mAh Portable Charger & Backup Battery  —  that's code for "I can hold 8 iPad or camera charges." Retail $89.99 and worth every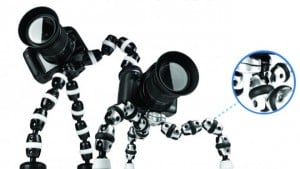 penny. If you're traveling with a group of app-guzzling gay boys, they will love you!
Mark Vogler
Founder/CMO, Out In The Vineyard
I love my GorillaPod flexible camera tripod. I never travel without it, especially when traveling alone. It's a flexible tripod allowing you to hang your camera from trees, wrap it around fences and poles, stand it up on uneven ground to take cool selfies. It even comes with an iPhone adaptor.
Leyla Farah
(Wo)ManAboutWorld Correspondent
I live and die by my TripIt Pro app. It organizes my travel reservations in one easy-to-use itinerary that can be printed out and easily accessed from any of my devices; it tracks all of my travel — regardless of carrier — and loads my travel details directly to my calendar. It also tracks all of my points and gets me into the best possible seat as soon as one opens up. I love it.
Scott Marquardt
ManAboutWorld Correspondent
I travel light so for me it's all about smartphone apps. Skyscanner for finding cheap flights and XE currency converter are two that I use all the time
Zachary Moses
HE Travel
I bought the Nokia Lumia 1020 Windows phone, which has a 41 megapixel camera. The pictures are nearly as good as my DSLR. I no longer have to carry a heavy camera or video camera with me. This phone has made travel a breeze. I never thought I would endorse a Microsoft product, but I have to admit, I'm impressed.
Allister Chang
ManAboutWorld Correspondent
I've tried a bunch of apps for flight booking, but still think the basic Matrix Software is the best service if you're just looking for the cheapest flight that'll get you there.
Michael Luongo
Freelance writer, editor, photographer
I bought this very lightweight — just a few ounces — bag-measuring device, the LCD Luggage Hanging Digital Pocket Scale, which is great for weighing luggage when packing. I can hang it from my carry on so it doesn't take up much space.
Tanya Churchmuch
LGBT Media Relations and Marketing Consultant
The best thing I've found lately is the Mophie Juice Pack Powerstation Duo. It has 2 USB ports so I can charge both my iPhone6 and iPad mini at the same time. It's a super-speedy and powerful charger, looks sleek, and is about the same size as an iPhone. It has been an absolute life saver at airports that don't have enough plugs for a regular charge or flights that don't have a USB outlet.
This LGBT travel column is brought to you by ManAboutWorld, an immersive digital gay travel magazine for iOS and Android devices from Ed Salvato, Billy Kolber, Kenny Porpora, and nearly 75 Global Correspondents. For more recommendations from ManAboutWorld's global gay experts, download our App. There are FREE guides and a 10-issue-per-year subscription-based magazine.
Photos: Top: Hernán Piñera; Above right: Gorillapod Courtesy Joby