Best Pumpkin Patches in the Midwest
Fall in the Midwest is a magical time. Scenic drives become even more majestic as the leaves turn from green to yellow, orange, and red. Cool evenings mean bonfires and 'smores. And perhaps the most fun of all is spending a day at pumpkin patches. More than just pumpkins, these seasonal attractions almost always offer corn mazes, hayrides, and cider doughnuts. See? Magical.
If you're looking to get out and enjoy the season in all its glory, here are six of the best pumpkin patches in the Midwest.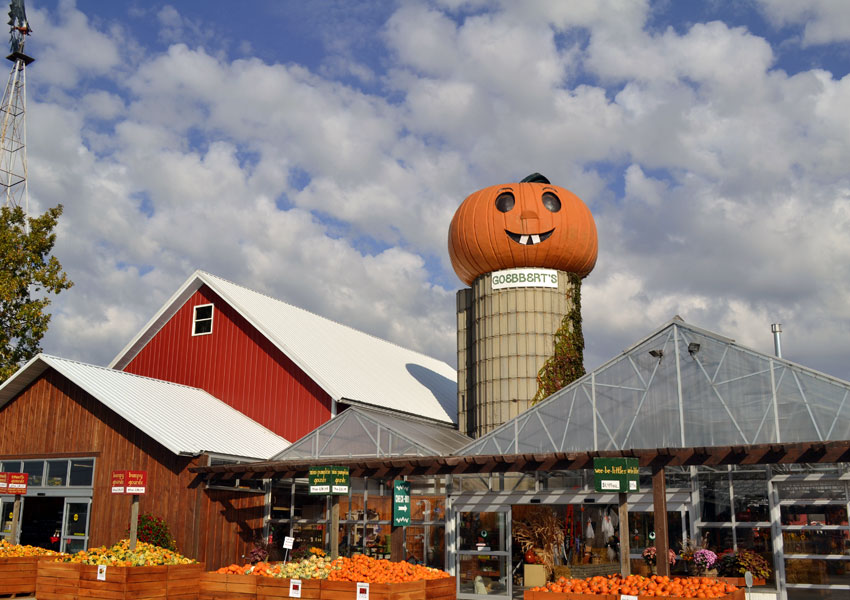 1. Goebbert's Pumpkin Patch and Farm
Hampshire and South Barrington, Illinois
If you've driven I-90 between Chicago and Rockford, you've probably seen the silo with a giant pumpkin head on top. That would be Goebbert's Pumpkin Patch and Farm and it comes in #1 on our list of top pumpkin patches. They've been hosting a Fall Festival since 1978. They've got another location in Hampshire, and at both farms there are hay rides, pig races, and more standard attractions, and you can also feed giraffes at eye-level.
2. Greendell's Fall Festival
Mooresville, Indiana
Visit Morgan County thinks you should visit this festival, now in its 13th year. "The Fall Festival includes three distinct aspects – the corn maze, pumpkin patch and the play area. A trip to the pumpkin patch and play area via hayride is only $3 per person (kids age 2 and under are free)." They've also got a semi that's been turned into the solar system. The corn maze is an additional fee, and this year it's a Lunar Legends theme. Greendell's is a must see on our pumpkin patches list!
 3. Vala's Pumpkin Patch
Gretna, Nebraska
For thirty years, Vala's Pumpkin Patch has been delighting families which brings it in as #3 on pumpkin patches list. My friends at The Walking Tourists particularly like the apple cider doughnuts, and you can also get lots of pumpkin-based sweets. Fun attractions at this family-owned farm southwest of Omaha include the pumpkin-eating dragon, pig races, and the storybook farm.
4. Walter's Pumpkin Patch
Burns, Kansas
This pumpkin patch located half an hour north of Wichita is a fall festival extravaganza. Not only do they have the standard attractions you've come to expect, they've also got giant jumping pillows, a pirate ship, a human gerbil wheel, a treehouse, and a zipline. They've even got a pumpkin cannon.
5. Polly's Pumpkin Patch
Chilton, Wisconsin
Not far from Appleton and Green Bay is Polly's Pumpkin Patch. If you want to pick your own pumpkin, you can take a wagon ride into the field on Saturdays and Sundays. The ride itself is just $2, and you can pick as many pumpkins as you want for $3 each. If you need to release some tension, take a turn at the corn cannon. Their corn maze is one of the best in the midwest, and if you've got little ones with you, they even get their own maze.

6. Wiard's Cider Mill and Apple Orchard
Ypsilanti, Michigan
If you want to visit a pumpkin patch with some deep roots, then take a trip to Wiard's. This farm has been a Michigan staple since 1837. They've got u-pick apples and pumpkins, a corn maze and hayrides, a straw stack, petting farm, and more. One of the newer activities is live action paintball, and if you're looking to get spooked for Halloween, there's Night Terrors Haunted Thrill Park.
Theresa Goodrich, The Local Tourist | October 24, 2017
Theresa Goodrich is the founder and publisher of The Local Tourist and Drive By Towns. Be sure to visit her at the Travel & Adventure Show in San Diego January 13 – 14 and Chicago February 10-11. Say hello and pick up a copy of her book "Two Lane Gems, Vol. 1: Turkeys are jerks and other observations of an American road trip," due out November, 2017.