Italy off the Beaten Path:  Cisternino, Puglia
The Itria Valley crosses several provinces within the region of Puglia, Italy. The picturesque landscape is dotted with olive trees, trulli, vineyards, stone walls and white towns. Driving through the countryside and wandering off the beaten path, you get a sense of being transported back in time on a "road" barely wide enough for a Fiat 500 bordered by stacked stone walls separating crop fields and neighbors. A trullo is an ancient building, white, round, and stacked with stone, topped by a conical roof. The trulli (plural of trullo) roofs end in either a point or a sphere called a "Pinnacolo". The walls are thick, providing a natural insulation whose inside temperatures are cooler in the summer and warmer in the winter. This area of Puglia has become famous for them and draws visitors admiring their history and construction.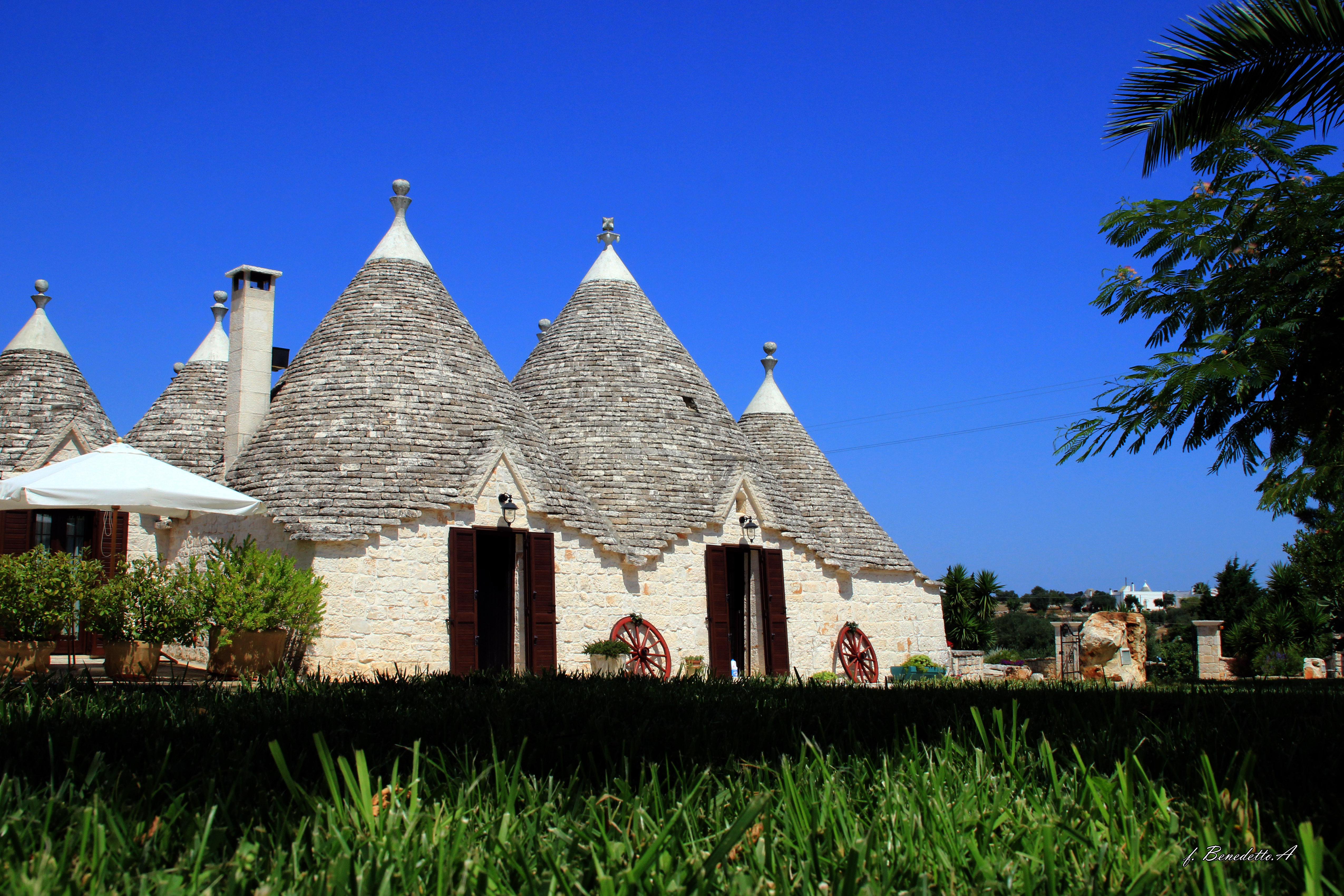 Traditional Trulli Apartments at Masseria Peppeturro Photo Credit: Rino Semeraro
Cisternino is one of the "white towns" in the area. It's a perfect place to base when visiting the area; everything you need without the crowds. Not only are the more popular towns reachable in a day trip, the beaches and Italian beach clubs that are scattered along the nearby Adriatic coastline are an easy 35 minute drive east (this IS a vacation, after all). Cisternino hosts a three day feast each August with Orecchiette pasta as the star attraction served up each night at 8:00 PM and accompanied by live music. If your itinerary brings you to Cisternino in September, the Sagra dell'Uva (Feast of the Grapes), combines street food such as porchetta, sausage and the "Bombette" local pork meatballs, with entertainment.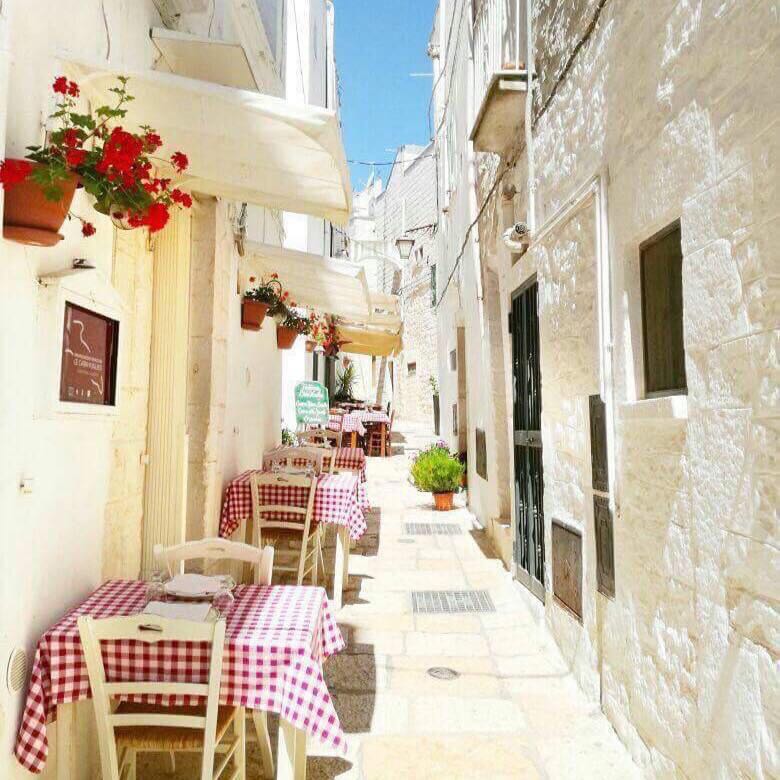 Lunch at Trattoria Bère Vecchie, Photo Credit: Trattoria Bère Vecchie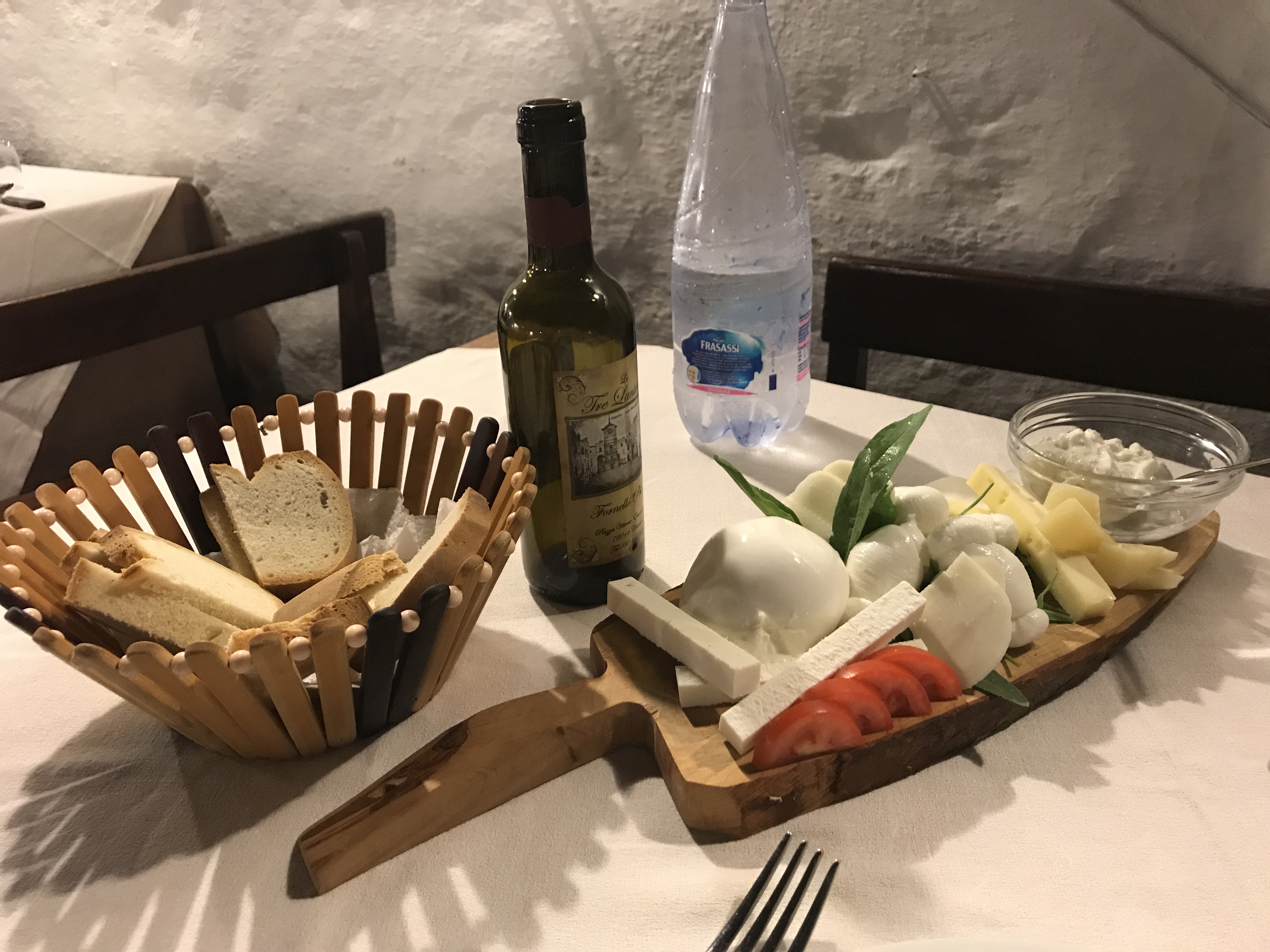 Dinner at Tre Lanterne in Cisternino. Photo Credit: Lisa Vogele

Cisternino's restaurants are a farm to table, cuisine-lovers' paradise. It's easy to find yourself sitting next to more locals than visitors at one of the great butcher shop restaurants. These Macelleria Ristorantes display their fresh meats as you enter, providing a hint to the menu offerings. The specialty dishes of the region:  orecchiette with chopped beef and tomato sauce, bean purée with chicory, and "bombettes"(roasted pork meatballs), are offered at the local restaurants. After a filling dinner, walk through the charming, rabbit warren of pedestrian alleys lit by lights that create an ethereal feeling and buildings glowing white in the moonlight.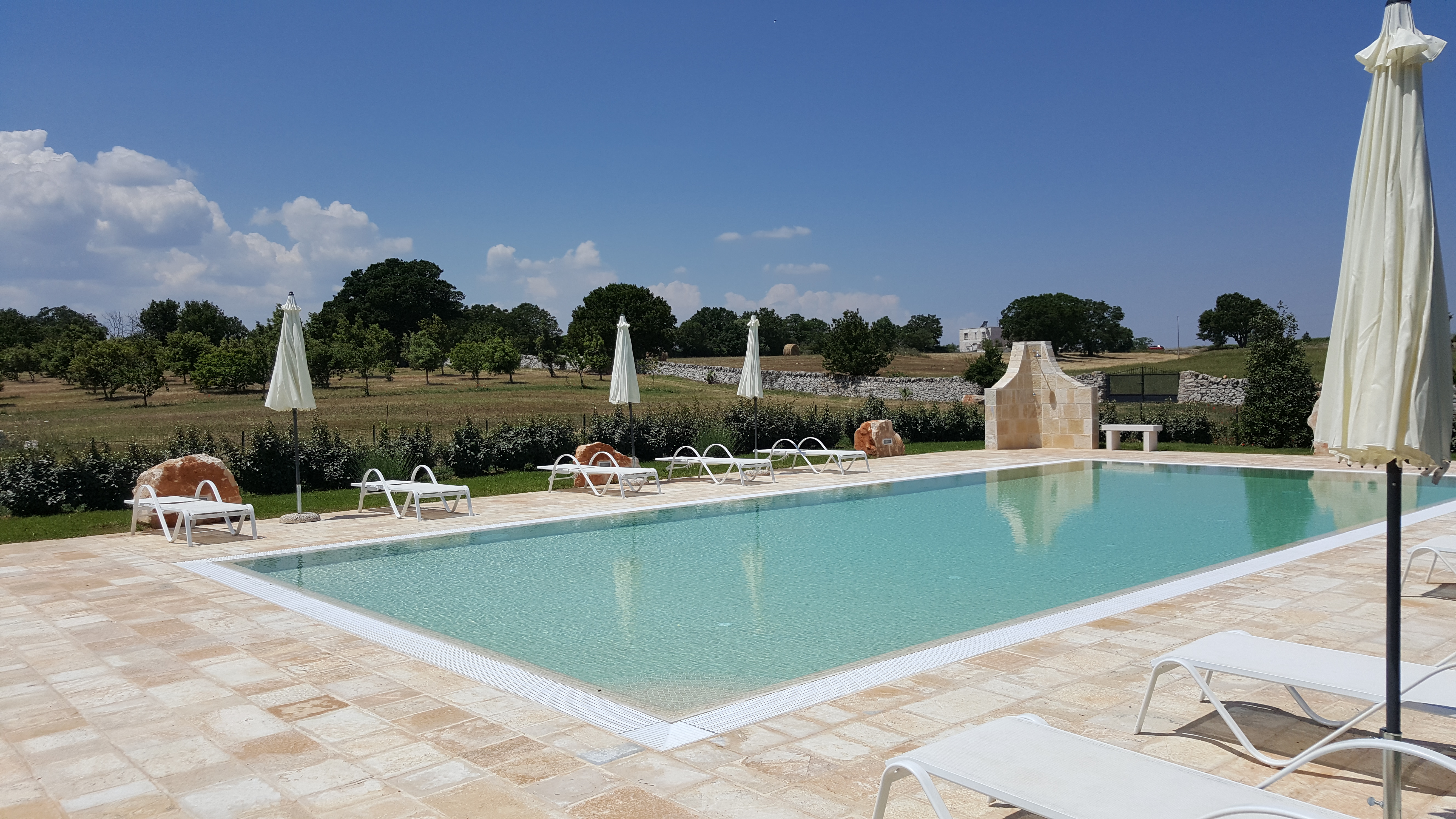 Pool & Olive Groves at the Tranquil Masseria Peppeturro Photo Credit: Rino Semeraro
Where to Eat, Drink & Gelato like a Local   
-EAT
Trattoria Bère Vecchie, Via Regina Elena, 8 (Excellent Trattoria/Macelleria (butcher) with local cuisine) Trattoria Bère Vecchie on Facebook
Le Tre Lanterne, Piazza Vittorio Emanuele, 3 (beautiful rooftop dining (steep steps)) Le Tre Lanterne on Facebook
APERTIVO
Bar Fod, Piazza Vittorio Emanuele II, 5 (Main Piazza in Old Town Cisternino) Bar Fod Website
-GELATO
L'Era Glaciale, Via Santa Lucia 9/11, L'Era Glaciale on Facebook
Market Day    Monday mornings, approximately 8:00 AM-1:00 PM
Festivals   Sagra del Orecchiette pasta every August; Sagra dell'Uva Casalini every September
How to Get There    Driving from: Brindisi Airport (BDS): 45 minutes; Bari Airport (BRI): 1.25 hours; Naples Airport (NAP) 3.5 hours; Rome 5.5 hours. The Nearest train station is in Fasano, 23 minutes away.
Where to Stay   Masseria Peppeturro   http://www.bbtrullipeppeturro.it/en-gb/  Contrada Chiobbica 2
Cisternino, Puglia 72014, Masseria Peppeturro Map  +39 3491425302, info@bbtrullipeppeturro.it   Sleeps 23 in 7 suites and apartments (in 2 buildings) that can be combined for larger groups; breakfast included with a beautiful selection including homemade baked goods made by Maria & Teresa and farm to table jams (Note: A Masseria is a term used in Puglia to identify a fortified house on a country estate. They are similar to the Agriturismo (farm holiday) found throughout Italy, and operate simultaneously as a B&B and farm production.)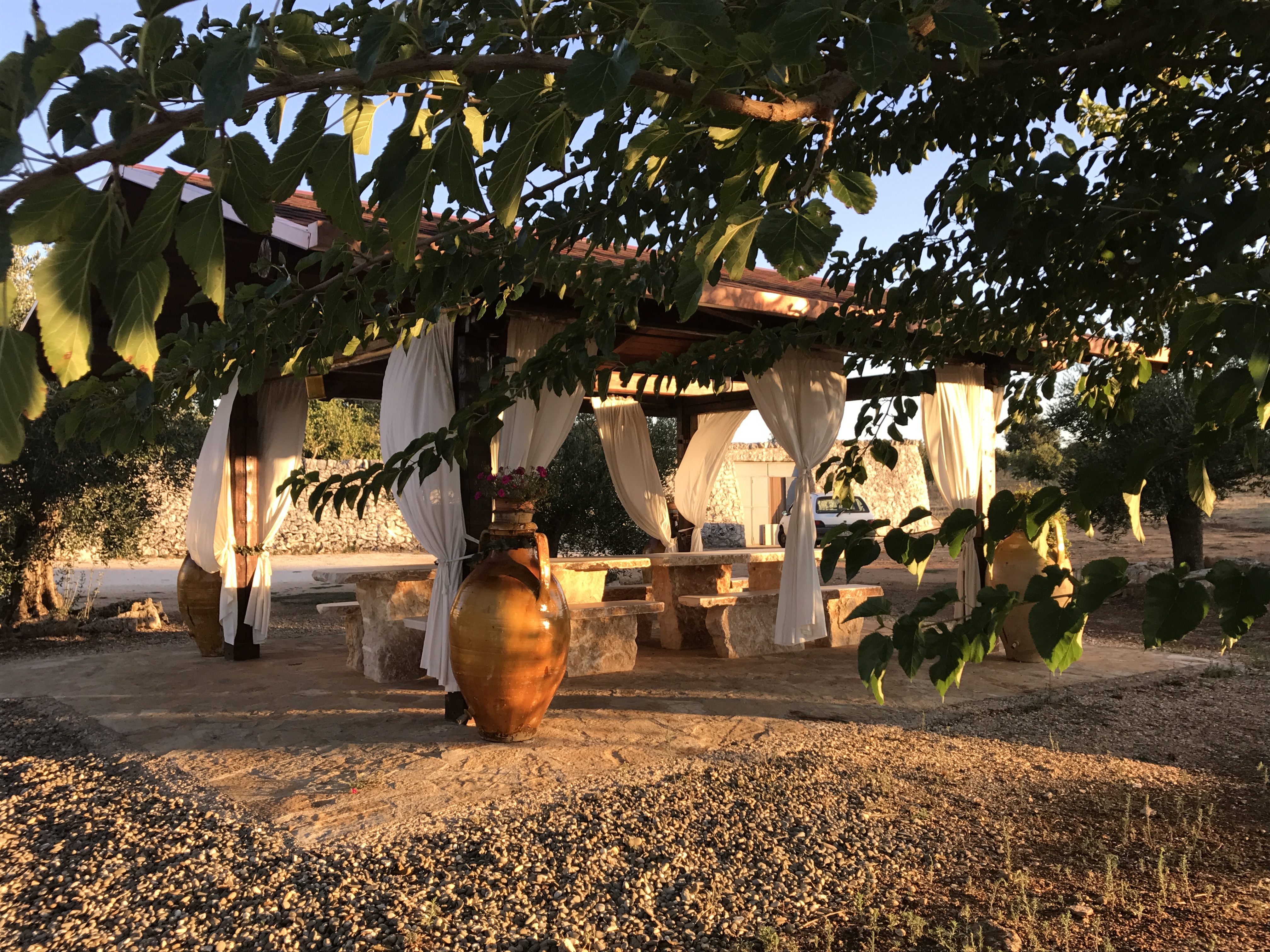 Grounds at Masseria Peppeturo, Photo Credit: Lisa Vogele
Lisa Vogele, Lisa's Travel Guides | October 18, 2017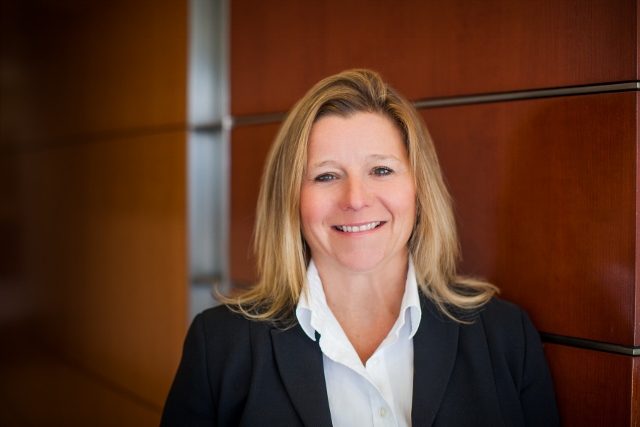 Lisa Vogele is passionate about sharing her love of travel, festivals and genealogy with fellow travelers and enthusiasts. Lisa is the author of Food & Folklore: A Year of Italian Festivals, her first installment in a series of travel reference guides about food and folklore festivals in various countries. Lisa's Travel Guides is a full service travel, tour and custom travel agency helping others to go local as a traveler and not a tourist. In 2017, Lisa combined her passions and created www.TravelYourTree.com providing research services and planning for ancestral destination adventures. Lisa can be reached at lisa@lisastravelguides.com  or follow her: Twitter @travelwithlisa; Instagram LisasTravelGuides and travel blogging at www.lisalovestotravel.com.