What's Hot: LGBT Montreal
Montreal's gay neighborhood is an integral part of the city, so much so that it's officially called the Gay Village. And while it is experiencing the same gay-exodus as most urban gay neighborhoods around the globe, it's still home to the city's gay nightlife and entertainment. Convenient to downtown and the historic port, it's been such a focus for gay visitors, that many have missed the recent ascendance of Montreal's former industrial neighborhoods.
The renaissance of Griffintown and Little Burgundy, along the Lachine Canal, is in full swing. Trendy stores and restaurants have been opening and luxury condos are rising on the shores of the canal, as the city tries to retain the neighborhood's industrial "charm" while accommodating the gentrification resulting from Montreal's influx of tech/AI companies.
For visitors, these neighborhoods offer a uniquely local and culturally diverse experience. Airbnb is currently the only accommodation option here, though these neighborhoods are easy to visit from downtown. Wherever you stay, it's worth spending at least a half-day to explore Montreal's new hot neighborhoods.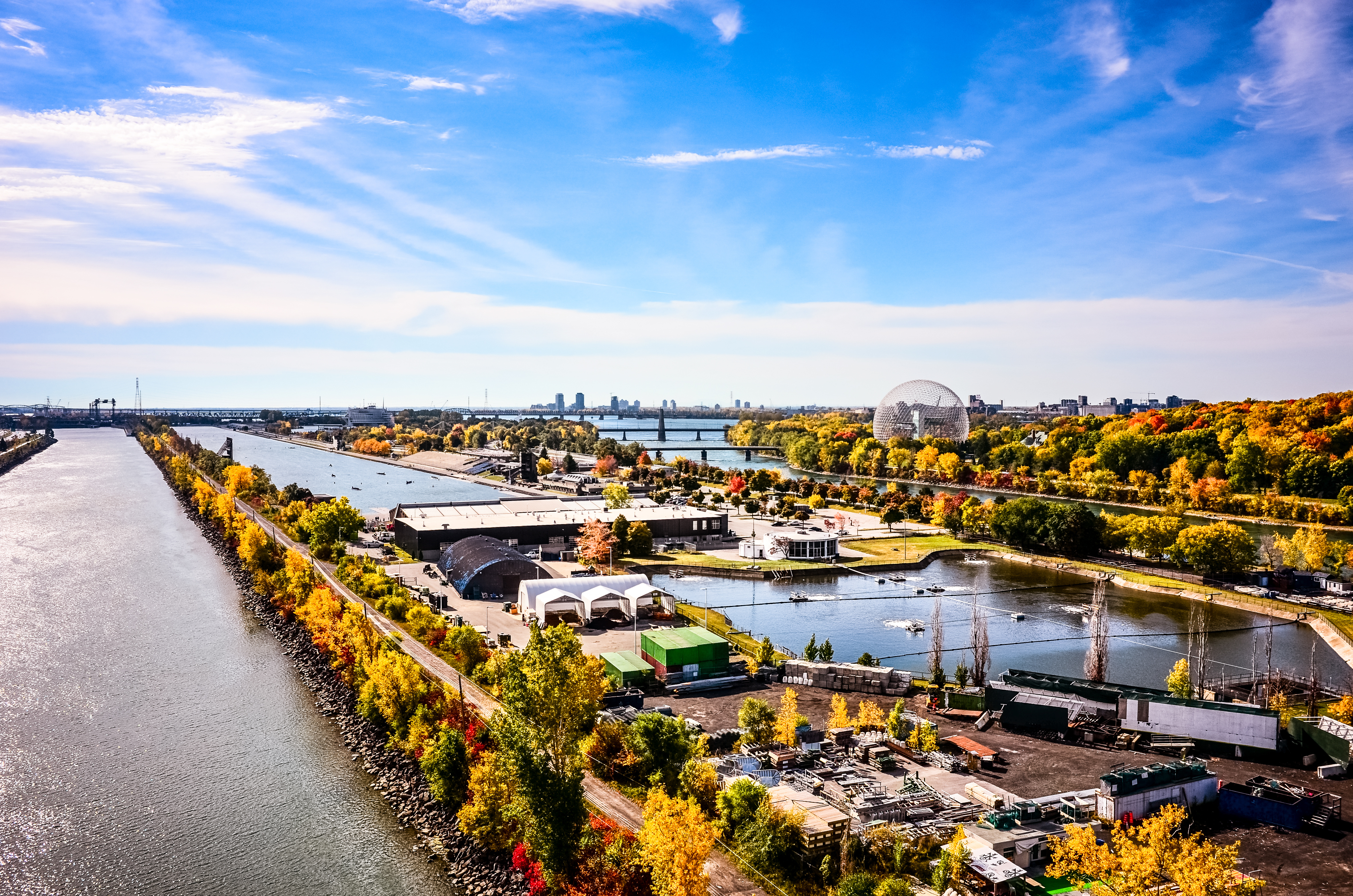 Here are our LGBT Montreal Travel Tips
1. Atwater Market
This bustling farmers' market is busy year round, though especially in the summer, when the parking lot overflows with fresh produce. Don't miss Chocolats Privilège for their decadent sweets (the chocolate covered marshmallows are a favorite), and the Première Moisson bakery inside.
2. Junior
Filipino cuisine may not have the pedigree or popularity of its Asian brethren, but a visit to Junior will leave you wondering why. Influenced by Malaysian, Chinese and Spanish cuisine, Filipino dishes mix sweet, salty and sour in gratifying ways. Opened by two local brothers and well-known DJs, Junior's serves up traditional Filipino dishes during the week, and a Filipino-fusion brunch on the weekends.
3. Boucherie Grinder
If Anna Wintour opened a butcher shop, it would look like Grinder. This tip-to-tail butchery displays meat like jewelry, hung in refrigerated display cases along the shop windows. It's worth a trip just to see it, though you can sample their meats at their restaurant of the same name just down the block.
4. Arsenal
With 50,000 square feet of exhibition space in a former 19th-century shipyard, Arsenal is the largest private art center in Canada, and the heart of Montreal's contemporary art scene.
5. Le Café Bloom
A little off the beaten path in the Point St. Charles neighborhood, this is our favorite brunch spot. With a handsome crowd and a menu of updated, stylish comfort food. Be sure to try the spruce soda — a refreshing bubbly Christmas in a bottle.
6. Bixi
Montreal's shared bike system is great for exploring Griffintown and Little Burgundy, with lots of docking stations to pick up/drop off a bike. Enjoy the bike paths all along the Lachine Canal, into downtown and the Old Port and around town.
7. MixxAuthentik
You'll find a range of antique stores in Little Burgundy, MixxAuthentik skews more towards mid-century modern, and the swinging '60s-'80s.
8. Stockmarkt Boutique
International designer clothes at deep discounts, in a stylish boutique that doesn't feel like you typical off-price retailer.
9. Code Ambiance
The bars in Little Burgundy and Griffintown are mostly of the pub variety, but Code Ambiance wine bar takes it up a notch with a satisfying selection of wines by the glass, and sophisticated cocktails in a chic atmosphere. Closed Sundays and Mondays.
10. Le Petit Navire
From early July through Late August, this electrically-powered boat does a daily round-trip from the Old Port (10:30am departure) to Atwater Market and back (1:00 pm departure) on Fridays, Saturdays and Sundays; 105 minutes each way. You'll learn about the 150-year history of the canal, enjoy the waterfront scenery, and pass through three locks.
To see the article in the app-based magazine download the ManAboutWorld App on the App Store or Google Play . This Link bypasses inApp payment for additional access to our paid issues. Use password "doubleupgrade" for a free all-access subscription to our magazine.
Man About World | August 31, 2017

For more great gay-travel content download the ManAboutWorld App on the App Store or in Google Play.